These college players are likely headed to the NBA in the following year
Posted on March 19, 2020
So here we are, no NCAA Final Four and a postponed NBA season. But to avid basketball fans, there's the possibility to lose so much more. The college basketball season typically ends at a time when the NBA season is three-fourths completed and unveiling which teams need the next generation of stars, according to professional basketball data provider iSports API.
(iSports API covers a wide ranges of sports games with livescore, standings, events, line-ups, pre-match odds and players' statistics)
Fans would start debating which upcoming stars their team might draft. March Madness has been a springboard for young hoopers to showcase their talents, improve their draft status and finish their college basketball careers with unbelievable memories. Unfortunately, this year's prospects and teams with momentum have been stymied by the coronavirus pandemic.
I've seen many of these players play, going back to AAU ball and their high school careers. Their draft prospects might have shifted because of their NCAA tournament performances, but we'll never know. However, the 2020 NBA draft will eventually happen with the inevitable questions: who's your top five and who are the best players you might not have heard of.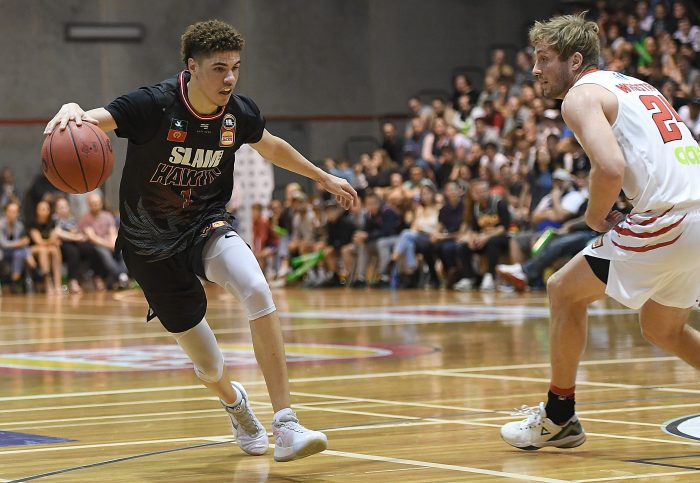 The consensus top-five picks are in no order because the actual selection will depend on the needs of the organization. That said, the top five are generally considered franchise players. The 2020 draft doesn't appear to possess a generational/franchise talent similar to last year's Zion Williamson, the 2019 No. 1 pick, or Ja Morant, the No. 2 selection, but it does appear to feature a talented group that can improve an organization or strengthen a marginal playoff franchise.
LaMelo Ball, a 6-foot-7 point guard, played in Australia this season. He can create for others, pass with either hand and keep defenses honest by hitting 3-pointers. Size and length are coveted in the NBA, but sometimes overstated, which is why the guys with grit, grind and authentic commitment make a roster and defy that logic. Ball has flair and ability, but does he have that star swag to carry a franchise to the next level? I'm not sure. He's a poor man's Penny Hardaway or a little better version of his brother, Lonzo Ball.
James Wiseman, the 7-foot center, played three games for Memphis. But as a result of a 12-game NCAA suspension after the season began, the young fella decided to withdraw and prepare for the NBA draft instead. He runs the floor, has great anticipation, rebounds and shoots the ball. He has great size and length and is a definitive rim runner.
He knows his strength and will post in the paint consistently while offering a variety of offensive moves, and he also has the ability to pass out of the post to make plays. He has great hands and is very active going to the glass or protecting the rim. Similar to Brooklyn Nets center DeAndre Jordan, with a better jump shot.
(Start free trail with you long-term sports data partner with reliable basketball data provider, click iSports API)
Anthony Edwards is a 6-foot-5 guard from Georgia with an NBA body. He can score at three levels, from 3-point range, drives to the basket and from mid-range, and also has the ability to get to the free throw line. He's a great athlete with the skill level to match, and he's also unselfish and makes good decisions. His respect comes from being named a preseason SEC first-teamer as a freshman.
It's a good movie so far, but not in the Oscars conversation yet. He didn't consistently dominate or lead his team with the unwavering confidence that next-level franchise players wear. He's supertalented and could be a franchise player if he demands opponents to put some more "respeck" on his name. He's compared to former NBA star Mitch Richmond of the Dirty Dirty.
Obi Toppin, the 6-foot-9 forward for Dayton, is a top candidate for Naismith College Player of the Year. He's a high-energy forward who really runs the floor well, high-level rebounder who rebounds out of his position (doesn't have to be under the ball or the ball doesn't have to drop in his hands for him to be an effective rebounder), can score around the basket and can shoot the 3. He's grown four inches since high school.
He's a little more mature than the average junior in college, having attended prep school after high school and sitting out his first year at Dayton. He's carried this mid-major program like he was on a mission, though because of the cancellation of the NCAA tournament, that didn't happen. He's a slightly smaller Amar'e Stoudemire.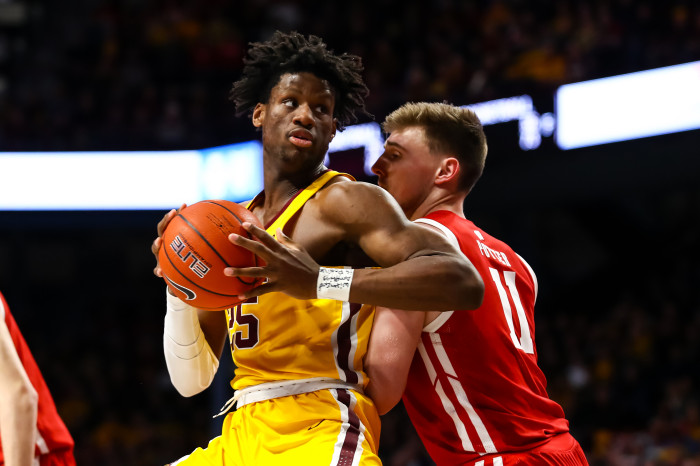 Daniel Oturu is a 6-foot-10 big man from Minnesota. He's long with a very high skill level, a great passer, shoots the 3 well and not a great athlete, but athletic enough. He's got an NBA-ready body that will be a splash during an 82-game season. He shot 56.3% from inside the 3-point line and 36.5% from distance this season,as per iSports basketball API, but he has to improve his free throw shooting.
Cole Anthony is a 6-foot-3 point guard from North Carolina. He has a tough NBA body and can run a team, get to the basket and shoot the 3. He's a superathlete with a killer instinct and a ridiculous work ethic, which is key for high-level success. I like the way he runs the team. He has leadership qualities like his father, former NBA player Greg Anthony, who captained the UNLV Runnin' Rebels to the 1990 NCAA championship. But he's a bigger, better athlete with a better shot. Some question his quickness, but the DNA is there. He seems to have recovered from an early-season injury. A player he reminds me of is Derrick Rose … maybe.
(Start free trail with you long-term sports data partner with reliable basketball livescore data provider, click iSports API)
Now this list could change a little, but as of this date, these young fellas are at the top of the list consistently. The next group of 10 are the guys who folks in the NBA are aware of but the national audiences are not necessarily as familiar with. Let me introduce them to you. They ball so hard it's only right that we be fair.
Jalen "Sticks" Smith is a 6-foot-10 forward from Maryland. He's long and athletic, with the ability to impact the game on both ends of the court; he can rebound, run the floor and block shots. He's gotten stronger and really protects the rim. Smith is an active forward who hasn't really shown his full array of skills yet, but he'll get that chance. He's playing center but really is a forward. Stretch 4 will be his gig, as he will be a good pick-and-pop forward at the next level. Maybe Rasheed Wallace with better handles. I saw this after seeing him play in high school.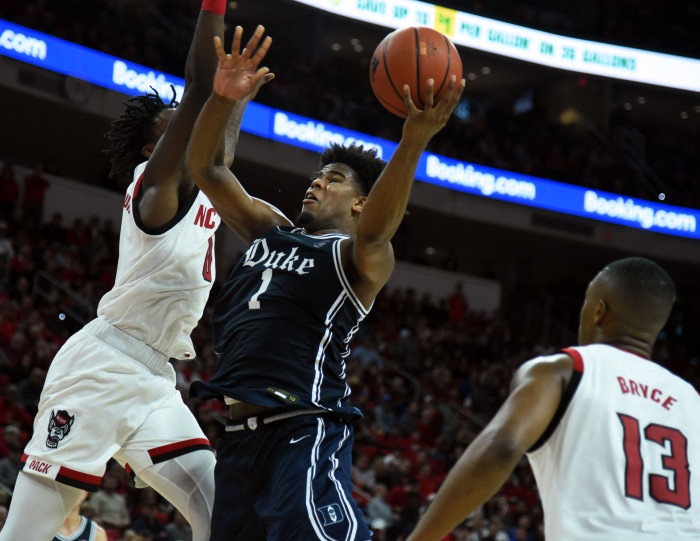 Vernon Carey is a 6-foot-10 forward/center from Duke. He's a big body with a high IQ and skill set. He scores in the paint and can shoot from 15 feet, run the floor and compete on the backboard at a consistent level. He can play with his back to the basket but can also shoot the elbow or short corner shot, a floater and/or a jump hook. The big fella can deliver. He's comparable to former Blue Devils Carlos Boozer and maybe Elton Brand.
Onyeka Okongwu is a 6-foot-9 multidimensional forward from the University of Southern California. He can do everything. He was teammates with LaMelo Ball in high school and came into his own after the Ball brothers left Chino Hills High School. He's a superathlete who can score.
Daron "Fatts" Russell is a 5-feet-10 (OK, 5-feet-9) point guard from Rhode Island. This speedster always finds a way to get a bucket. He's one of those players where you can see that he is trying to win everygame. He's athletic enough to turn it up (dunk) going to the rim. He was the best guard in the Atlantic 10 this season, according to basketball livescore iSports API. There will be questions whether he can defend at the next level. Throwback comparison: Former NBA player Michael Adams – the no hops version.
Markus Howard is a 5-foot-11 (really closer to 5-foot-9) shooting guard from Marquette. He has deep range with a scoring ability similar to former Brigham Young University guard Jimmer Fredette, but Howard is faster and can get into the lane. Howard is an elite shooter with a career shooting percentage of at least 45% from the field and 3-point line, as per baksetball data provider iSports API. He is small, though, for the next level.
(Start free trail with you long-term sports data partner with reliable basketball data provider, click iSports API)
Myles Powell is a 6-foot-2 "bucket" from Seton Hall. Bucket accurately suggests Powell's position. He can score in every way. He's a stronger, bigger version of former Purdue guard Carsen Edwards, who currently plays with the Boston Celtics. He's another player who can score at all levels and in transition: half-court set drives, mid-range jumpers, from 3 and the free throw line.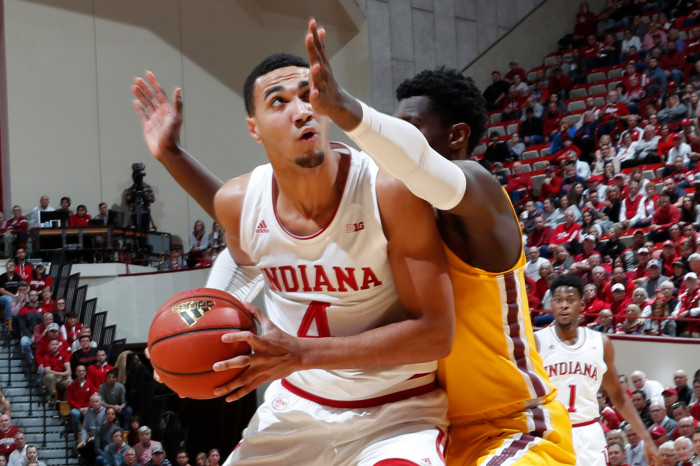 Trayce Jackson-Davis is a 6-foot-9 rebounding forward from Indiana. He's an unbelievable athlete with quickness. He rebounds out of position, even when he doesn't have the inside position, nor does he have to be under the ball to be an effective rebounder. He's also a good rim protector. His father is former NBA great rebounding forward Dale Davis, which makes you really believe that rebounding is in his DNA. When this multitalented freshman learns how to play, the sky's the limit. Reminds you of his dad.
Cletrell Pope is a 6-foot-9 forward from Bethune-Cookman. He's a long, athletic pogo stick player with one of the traits that make NBA folks stop to take notice. Pope has a serious motor, and led the nation in offensive rebounds per game, shot 60% from the field in conference play and was voted the Mid-Eastern Athletic Conference (MEAC) preseason player of the year this season.
Pope plays hard, rebounds out of his position and runs the floor with the best of them. He defends multiple positions and had 21 double-doubles last season, breaking the record of former Norfolk State University and present Philadelphia 76ers forward Kyle O'Quinn, who was the last MEAC player drafted into the NBA (2012). Pope is the No. 1 prospect from a historically black university, according to iSports basketball API. He reminds me of former NBA great Dennis Rodman, without the hair color, dress or personality.
Now, this list could have included a couple of more guys, but most of them played at Power 5 schools and were on TV like a weekly series, so they've received their fair share of publicity. Tyrese Haliburton (Iowa State), Sam Merrill (Utah State), Saddiq Bey (Villanova), Isaac Okoro (Auburn), Landers Nolley II (Virginia Tech), Payton Pritchard (Oregon), Jaden McDaniels (Washington), Patrick Williams (Florida State), Nico Mannion (Arizona) and Cassius Winston (Michigan State) are certainly not the only ones, but are a few really good players not discussed in detail. I just wanted to get the jump on the next group of NBA stars.
(Start free trail with you long-term sports data partner with reliable professional sports data provider, click iSports API)