A comprehensive and cost-effective data API to achieve your Esports dream
Posted on May 09, 2020
EVERYONE plays video games now. The gaming industry (PC, console, mobile, etc) has become a global behemoth and it's breaking records right now.
While Esports are played virtually they are real competitions, with real storylines, and games sports fans can relate to because they already play them.
Esports does have some advantages over sports right now, and the biggest being that games can be played online. While the esports experience is even greater in-person at a major event, our competitions can be played and watched online.
Up until recently, esports hasn't been taken as seriously as it should be by the industry. With the development of sports, fans will turn to professional esports competitions especially for the games they already know. Sports media will increase their coverage of esports because there's nothing else to cover and esports competitions have the same competitive spirit that you'd expect out of traditional sports.
Using artificial intelligence and editors APIs, we collect and normalize data from the safest sources to make it available into one single API.
Get insights from the widest esports database.
Normalized API: Clean and standardized API about players or teams, matches and tournaments for every supported game.
Real-time data: Powered by our artificial intelligence technology, we ensure that our data stays up-to-date even throughout the course of matches.
Technical Standard: 300ms stream latency. More than 100 data points. Huge competition coverage.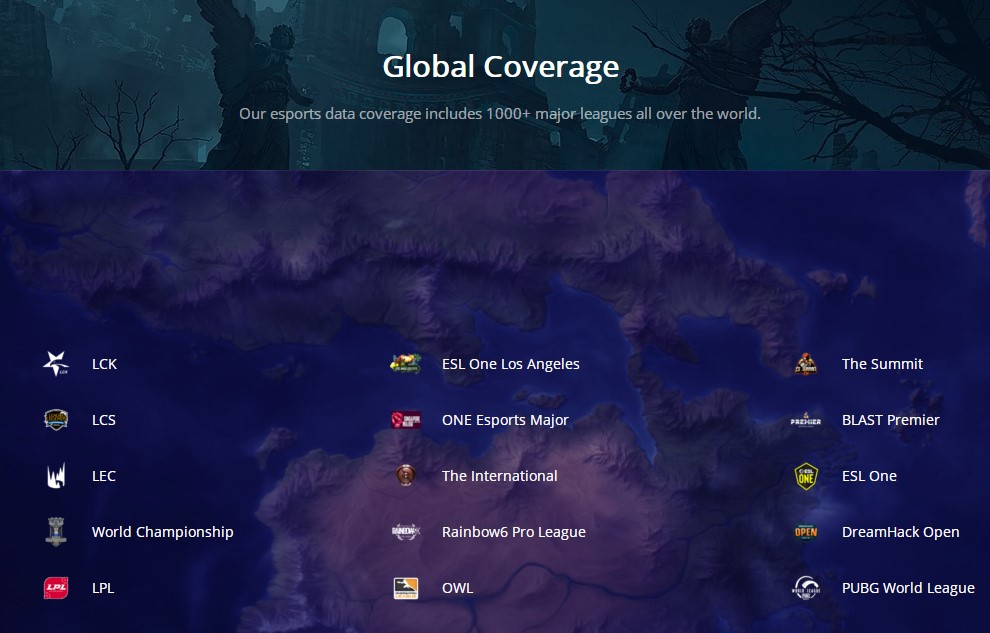 The esports data API, stop worrying about collecting data and start building your esports project. A quality esports product is similar to a good sports offering. We are providing data on the most active esports scenes.
League of Legends Get all the necessary data on League of Legends esport leagues, like the World Championship, NA LCS, LCK, LPL, EU LCS and more, with a live data stream, the latest static data (champions, items), match history.
Counter-Strike: Global Offensive Get live data from CS:GO tournaments, and access to the match planning, past games details, static data, esports teams, players, matches.
Dota 2 Get a real time, high accuracy data streams from The International, Major and Minor leagues, matches, and access to a huge pool of historic data, static data (items, heroes...), esports teams, players, matches etc...
Other Games Get live data like Rainbow SiX,Overwatch,Rocket League, StarCraft2, Heroes of Storm,Heartstone League matches, and access to the match planning, past games details, static data, esports teams, players, matches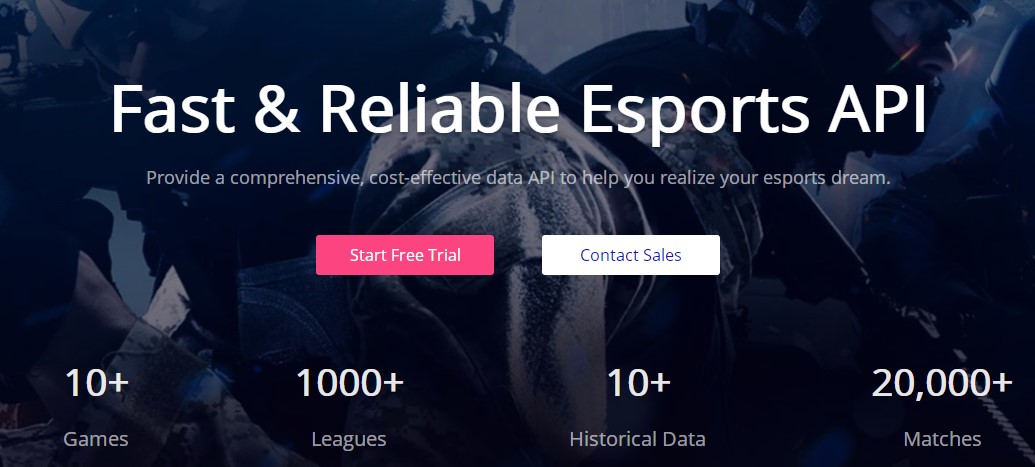 At iSports API we recognize there's a window of opportunity for esports. Now is the right time to start taking esports seriously.